What is an Audiologist?
On average, most Americans don't know how to recognize the first signs of hearing loss or which health professional is qualified to diagnose and treat the condition. If you think you may have a hearing loss, you need to see an audiologist.
An audiologist is a licensed and clinically experienced health-care professional who specializes in evaluating, diagnosing, and treating people with hearing loss and balance disorders. The first step in treatment of a hearing problem is to get your hearing evaluated by an audiologist. A hearing evaluation will determine the degree of hearing loss you have and what can be done. Although most hearing loss is permanent, an audiologist can determine the best treatment, which may include hearing aids, assistive listening devices, and hearing rehabilitation.
In response to the growing number of Americans suffering from hearing loss, the American Academy of Audiology in conjunction with the California Academy of Audiology support National Audiology Awareness Month each October.
Please check out the following fact sheets to learn more.
---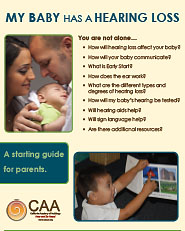 CAA Pediatric Brochure
Click Here to download our Pediatric Brochure.
View CAA / CSHA Youtube video: ENGLISH / SPANISH
---
More Audiology Links
Academy of Dispensing Audiologists
An excellent site for professionals and consumers alike with information about audiology and hearing aids.
American Association of Retired People
AARP is a nonprofit, nonpartisan association dedicated to shaping and enriching the experience of aging for our members and for all Americans. It is the nation's leading organization for people age 50 and older.
American Academy of Audiology
The nation's premier audiology association with excellent information for professionals and consumers on a variety of topics.
American Speech-Language-Hearing Association
The national certifying body for audiologists and speech-language pathologists.
American Society on Aging
General information on aging and the effects of aging on hearing.
American Tinnitus Association
Excellent information on ringing in the ears (tinnitus) for professionals and consumers. You can join this organization here.
Association of Late-Deafened Adults
An organization founded specifically for those whose severe-to-profound hearing loss began late in life. You can join this organization.
Audiology Foundation of America
The AFA is an organization for audiologists that focuses on the further education of audiologists through the Doctor of Audiology degree.
Better Hearing Institute
A consumer-oriented website full of useful information on hearing loss, tinnitus and balance disorders.
California Speech Language Hearing Association
CSHA fosters excellence in the professions of speech-language pathology and audiology through education, advocacy and collaboration.
California Telephone Access Program (CTAP)
CTAP is a program of the California Public Utilities Commission Deaf and Disabled Telecommunications Program and is funded by a small surcharge that appears on all telephone bills in California.
Ear Foundation & Meniere's Network
Excellent resource for consumers on hearing loss, as well as information about the dizziness and tinnitus associated with Meniere's disease.
Hearing Loss Association of America
Formerly called SHHH (Self-Helf for Hard of Hearing) is a non-profit membership-driven organization dedicated to well-being of all individuals with hearing loss. The largest international organization of its kind. Memberships are available here.
Hearing Loss Association of America, California State Association, Inc. (HLAA-CA)
California Chapter of HLAA
Hearing Concern
Hearing Concern exists to help overcome the frustration, isolation and loneliness experienced by millions of people in the United Kingdom who have hearing loss. It is the UK's leading provider of advice and support, campaigns on behalf of its client group and promotes awareness of the communication needs of deaf and hard of hearing people.
Hearing Education and Awareness for Rockers
A non-profit organization dedicated to raising awareness off the real dangers of repeated exposure to excessive noise levels which can lead to permanent, and sometimes debilitating, hearing loss and tinnitus. For musicians,  music fans, and anyone needing help with their hearing.
Hearing Health Magazine
A subscription-only magazine designed for people who experience any degree of hearing loss, tinnitus, or other ear disorder.This site allows you to subscribe.
Military Audiology Association
This site is dedicated to the prevention of noise-induced hearing loss.
Music Induced Hearing Loss
A disorder in which a person has been exposed to high levels of music over a prolonged period of time. People of all ages, demographics and gender may be affected by MIHL. Music Induced Hearing Loss is caused from too much sound intensity going through and into the auditory system.
National Council on the Aging
A searchable website full of information on aging, including age-related hearing loss.
National Health Council
A searchable website full of information about a variety of health-related issues, including hearing loss.
National Hearing Conservation Association
This organization strives to prevent hearing loss due to noise and other environmental factors in all sectors of society. Memberships are available.
National Institute on Deafness
The NID(CD) is is part of the National Instituations of Health.  This site provides wonderful information about recent research and other aspects of hearing loss.
Searchwave: Hearing Loss/Audiology Search
This is an extremely comprehensive search engine for consumers and professionals.  You can find information on just about any ear-related topic here.
Sensaphonics Hearing Conservation
This manufacturer is committed to maintaining the most important musical instrument – the ear – while providing revolutionary on-stage sound reproduction through the use of in-ear monitors. Their goals are to provide effective, innovative hearing protection and conservation products, services and information for the music industry to heighten their awareness of occupational sound hazards.